Did you know?
Do you know what Béatrice's favourite pastimes were, or how she expressed her eccentricities? Discover all the answers and more here.
Modern comforts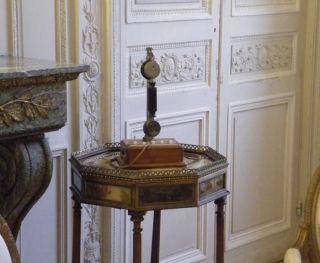 From the start, Béatrice had the Villa fitted with all the modern comforts recommended at the time by the principles of hygienism: full bathrooms with bathtub for each bedroom, a telephone, a lift and forced-air heating powered by coal-fired boilers. You can see a heating grille just above one of the windows in the blue bedroom on the first floor.

Béatrice had a telephone in her boudoir. This invention from the end of the 19th century was not particularly popular among the aristocracy, but quickly became indispensable to businessmen such as the Rothschilds. Béatrice had one installed at the Villa and could be contacted at any time on 1-66.
The design of the gardens
It was Béatrice herself who designed the French garden, adapting and rearranging multiple projects proposed by her landscape architects. How did such an exacting and capricious personality at the start of the 20th century come up with a plan for her garden? Nothing could be simpler: she organised a "living garden"! Some of her employees, hidden under pyramids of green cardboard acted as cypress trees. Others moved around long strips of silver, grey or green fabric, simulating ponds, pathways and flowerbeds. One pace to the left, two paces to the right ... and the garden of Béatrice Ephrussi's dreams began to take shape.
The sporting activities of Béatrice
Béatrice was a modern, sporting woman. Her pastimes were quite unusual for a woman in those times: she was a member of a flying club and attended boxing matches. She skated, rode horses and played tennis. And even though she had a chauffeur, she sometimes drove her own car.
Béatrice's animals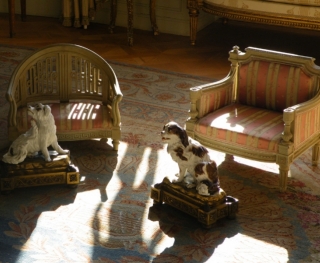 In the Baroness' bedroom, you can see two miniature seats for animals: one was reserved for her poodles and the other for her pet mongoose.

One of her architects, Albert Laprade, was surprised by the number of animals that constantly surrounded Béatrice: "A poodle and two monkeys are her favourites and have the honour of being walked by a butler selected from among the former generals of the Tsar's guard. A small Indian mongoose goes with them. There are gazelles living in the gardens. And in the Villa itself, there is a Peruvian parakeet and oriental fish [...] Madame Ephrussi attaches great importance to her animals and holds strange, irritating and ridiculous conversations with them."
A love of gambling and racing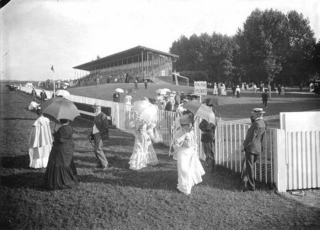 During the Belle Époque, French high society delighted in numerous entertainments: opera, concerts, the casino, etc. After dinner, they also entertained themselves by holding séances and it wasn't unusual to end the evenings with a hand of bridge. Throughout her life, Béatrice was a frequent visitor to casinos. Deauville in Normandy and Monte Carlo on the Côte d'Azur were her particular favourites. She also liked to play baccara and roulette.

Béatrice also loved horse racing and had her own stable. In Nice, Cannes and Deauville, when she wasn't at the casino, she could be found at the racecourse. Horse races were one of those occasions where it was considered good form to be seen, especially if one was a lady of society. Béatrice continued to attend the races until October 1932, less than two years before her death.
The eccentricities of Béatrice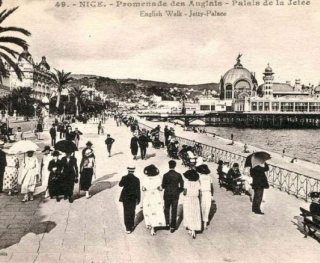 While she was charming at 20 years old, Béatrice became rather flamboyant in her thirties and would have been difficult to beat in the unremitting race for originality in which her social circle would have been involved.

The perfect illustration of this is the "marriage" ceremony that she organised for Diane, her favourite female poodle and a male poodle called Major. Read the account from the "Boston Daily Globe" of 17 January 1897.

"Hundreds of invitations were sent out, addressed to canine guests and their owners. All the men, of both the two- and four-legged variety, showed up during the day in formal evening dress: tails, wing collars and bow ties. [...] At the sound of the wedding march, three little poodles appeared in tails to begin proceedings. Canine "bridesmaids" and "best men" escorted the betrothed couple. At the other end of the room, a good and loyal bulldog waited for them wearing a top hat and a red, white and blue sash. [...] The bride had a gold ring set with diamonds slid onto her paw."

For Béatrice, who cultivated impertinence, celebrating the marriage of her dog was certainly a means of parodying her own wedding by celebrating freedom of thought and seduction.