The porcelain collection
The dining Room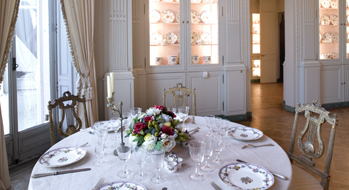 This room looks out over the Bay of Villefranche and would probably have been the bedroom of Maurice Ephrussi. Even though he and Béatrice were separated in 1904, he found it convenient to keep a room at the Villa. Today, this room has been fitted out as a dining room. This room and the next house Béatrice's collections of French porcelain, considered to be one of the richest in France, if not the world. She got her taste for porcelain from her father Alphonse, who was a great enthusiast and collector.

All the porcelain in the dining room comes from the royal Sèvres Manufactory near to Paris, the successor of the Vincennes Manufactory created by Louis XV.
The porcelain room
The majority of the porcelains in this room come from the Vincennes Manufactory. You can admire the "vases of three ages", extremely rare and belonged to Béatrice's father or an antique urn, another marvel of the collection.