The apartments of Béatrice
The Boudoir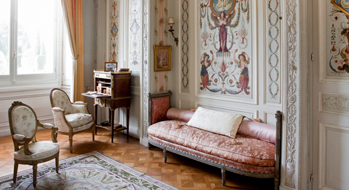 Béatrice used the boudoir to write or to receive her closest friends.
In this room…
The writing desk or escritoire. This small piece of furniture was used for writing and was designed specifically for women. It is signed Jean-Henri Riesener, one of the best-known cabinetmakers in the 18th century, and would have belonged to Marie-Antoinette.
The octagon base table. The polished tabletop, created at the Sèvres Manufactory, is decorated with bird feathers and insect wings. This tabletop with drawers is signed by the French master cabinetmaker Adam Weiswiler, who worked during the reign of Louis XVI.
The bedroom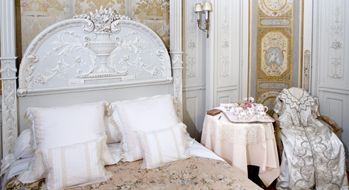 Facing west towards the setting sun, the Baroness's bedroom is furnished with a Venetian bed covered with Chinese silk embroidered with various flower and bird motifs. The Rothschilds were trading silk with China from 1838, hardly 4 years after the end of the commercial monopoly imposed by the East India Company.
The chest of drawers to the right of the bed is signed Nicolas Petit, one of the best proponents of the Transition style, marking the switch between the rococo of Louis XV and the neo-classicism of Louis XVI. On top of this, there is a portrait of Béatrice as a young girl, the only portrait to be preserved to this day.
The second part of the room, which is round in shape, looks on to the Bay of Villefranche.
The large oval carpet comes from the Aubusson Manufactory and dates from the end of the reign of Louis XVI. It echoes exactly the shape of the ceiling. The ceiling is decorated with a painting from the Venice school from the 18th century depicting the Triumph of a patrician family.
The dressing room
The chinoiseries
This part of the dressing room accommodates clothing that draws inspiration from China.
There are tiny shoes on show in a display cabinet. It was a traditional belief in China that a woman should have tiny feet. Béatrice tried to meet this requirement at the expense of great suffering: all of her toes, apart from the big toe, were bent under the foot and held there with extremely tightly tied strips of cloth. Another display cabinet exhibits grand Mandarin robes.
The collection of 18th century silks
In the second part of the dressing room, there are gowns, waistcoats and fabrics made from satin, taffeta, silk and velvet dating from the 18th century. All represent a very high level of refinement.
The bathroom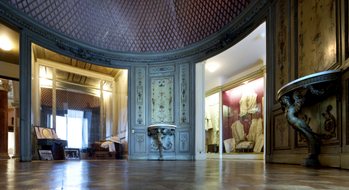 Béatrice's bathroom is a masterpiece in sophistication. In a circular shape, its dome is covered in guilt chestnut slats forming a trellis. On the walls, the panelling, painted in the 18th century by Pierre Leriche, one of Marie-Antoinette's painters, conceals small closets housing the washbasin, dressing table and bidet.
In the centre of the bathroom, there would certainly have been a bathtub supplied with running water. It no longer exists today.